Outpatient Care

Consultation procedure
Outpatient Guide
Outpatient Care
The hospital conducts medical education and research with the aim of contributing to society, seeking to foster outstanding medical professionals and advances in medicine through consultation respecting the wishes of our patients.
Therefore we ask for your cooperation in permitting medical students to attend your consultations, take your medical history and examine you as part of their medical education. Thank you for your understanding and cooperation.
Procedure for receiving foreign patients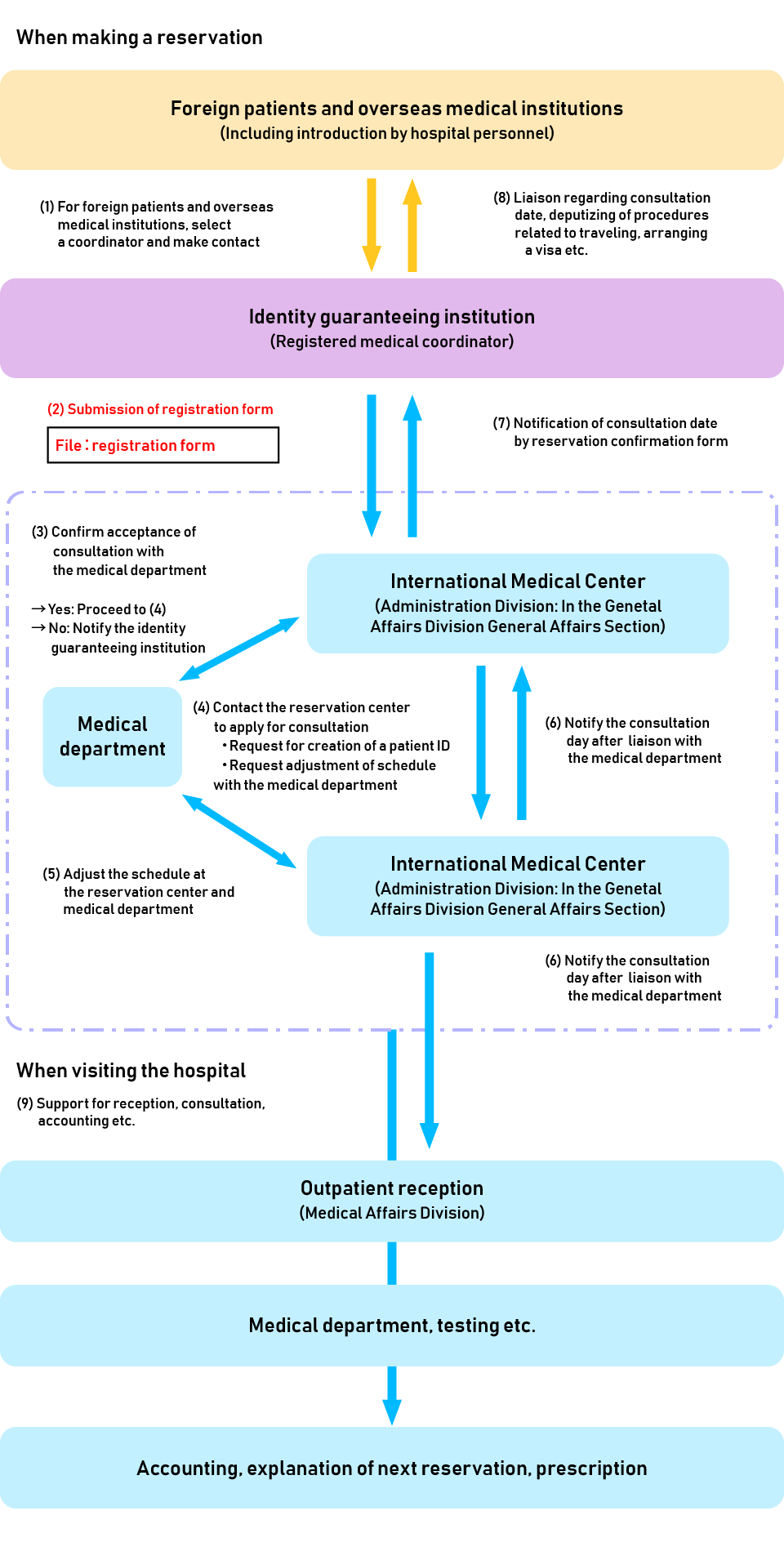 Foreign patient consultation policy
(Those who don't have Japanese citizenship and don't have valid public medical insurance in Japan)
For people living abroad
1.

The hospital won't support the visa application procedure for coming to Japan.

2.

Prepare a patient referral form (letter of introduction) from another medical institution.

3.

Contact the identity guaranteeing institution (registered medical coordinator).
Select a registered medical coordinator from the list on the Ministry of Foreign Affairs website below and contact us.
After an inquiry from the registered medical coordinator to our hospital, we'll check with the relevant department if we can accept it.
 1) List of registered medical coordinators
   https://www.mofa.go.jp/j_info/visit/visa/medical_stay2.html
 2) List of registered travel companies
   https://www.mofa.go.jp/j_info/visit/visa/medical_stay3.html
4.

On the first visit, procedures based on the registration form from the website are necessary.

5.

All consultation costs are to be covered by the patient. The hospital's medical fees are set at 30 yen for 1 point (However, items related to medical materials, agents, fresh and stored blood, medical gases, and radioactive sources are 10 yen for 1 point).

6.

We cannot prepare an estimate of the patient's medical fees.

7.

If we can't provide an interpreter within the hospital, we may ask that you arrange an interpreter (or a medical interpreter). Any costs associated with medical interpreters will be borne by the patient.
For people living in Japan
1.

People living in Japan will basically be treated the same as Japanese.

2.

Arrange your first visit through your regular medical institution.

3.

Patients without a patient referral form may be sent to a local medical institution.
Consultations
Consultations: Monday-Friday
Closed: Saturdays, Sundays, National Holidays, days off in lieu, New Year
*The consultation day depends on the department.
Consultation hours
First visit
(Medical) 8:30-11:00 (Optical: 8:30-10:30)
(Dental) 8:30-11:30 / 13:00-15:00
(Oral surgery, oral medicine, Clinic for breath odor, pediatric nutrition: 8:30-11:00)
Repeat visit
8:30-17:00
*The reception hours depend on the department. The departments also have different requirements concerning referral notes and reservations.
Be sure to check with the department in advance.
Changing your reservation
Reservation Center open times 8:30-17:00
Toll free: 0120-131-361
Telephone: 088-634-1361
Emergency consultation
After hours desk Telephone: 088-633-9211
Location: West Ward 1st floor Duty Room
Fee for treatment of Patients' choice for first visits and repeat visits
This hospital is an advanced treatment Hospital. If you don't have a referral from another medical institution, you will be charged the following the Fee for treatment of Patients' choice in addition to the normal medical expenses.
| | At first visit | At repeat visit |
| --- | --- | --- |
| Medical | ¥5,400 | ¥2,700 |
| Dental | ¥3,240 | ¥1,620 |
Medical ID cards
Be sure to bring your medical ID card when you visit the hospital.
The medical ID card can be used for medical examinations at all medical and dental departments.
Checking your insurance card
Be sure to bring your health insurance card on your first visit of each month.
Please let us know promptly if there are any changes to the content of your health insurance.
Certificate
Apply at the medical certificate desk.
Please note that issuing medical certificates takes approximately three weeks.
You must pay for the certificate in advance.
Car parking
Outpatients should take a parking ticket at the entrance gate. After completing reception, present your medical chart and receive a parking fee discount at the parking adjustment desk next to the information desk.
Do not park in areas other than designated car parking because it will interfere with the passage of emergency vehicles.
Mobile phones
Set your mobile phone to silent mode and avoid inconveniencing other people.
No smoking
No smoking is permitted anywhere on the grounds of the hospital.
Patient calls
Please note that to prevent medication errors and to provide safe medical care, we call patients by their names.